Description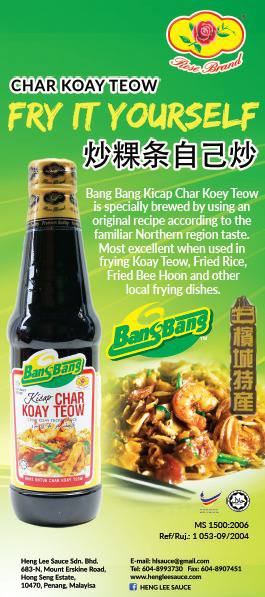 Source: http://m.hengleesauce.com/
Naturally brewed
300ml
Manufactured by Heng Lee Sauce Sdn Bhd from Penang, Malaysia
Plastic bottle
Ingredients: Soy Bean Extract, Caramel, Sugar, Salt, Permitted Preservatives and Flavour Enhancer.
The recipe from the bottle:
Heat up wok and add one ladle of cooking oil.
Fry shrimps until half cook.
Add 1 tsp of minced garlic, 1 tsp of chilli bowl, 10g of beans sprouts, 100g of koay teow, 6 pieces of cockle flesh and fe leaves of garlic chives.
Stir fry until evenly mixed.
Add egg with one ladle (15ml) of Char Koay Teow sauce.
Stir evenly and serve.