Bang Bang Char Koay Teow Sauce 300ml
$5.50
Rose Brand Bang Bang Char Koay Teow Sauce from Penang
Naturally brewed
Bottle size – 300ml
Description
Rose Brand Bang Bang Char Koay Teow Sauce from Penang
300ml bottle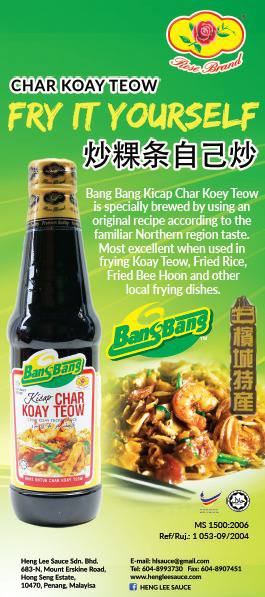 Source: http://m.hengleesauce.com/
Naturally brewed
Bottle size – 300ml
Manufactured by Heng Lee Sauce Sdn Bhd from Penang, Malaysia
Plastic bottle
Ingredients: Soy Bean Extract, Caramel, Sugar, Salt, Permitted Preservatives and Flavour Enhancer.
300ml
Nyonyalicious recipe:
"Char" means fried; "Koay Teow" means rice noodle. It is basically a stir fry noodle with seafood, yet it is much more than that.
It has its signature aroma of charred smokiness ("wok-hei") when stir frying over a very hot heat/wok and a flavour of sweet and saltiness at the same time; this makes it stand out from the rest of the noodle stir fries.
If you are ever in Penang and stand next to a char koay teow stall, pay attention to the noodles. The "wok-hei" will come when witnessing the "koay teow" "jumping" / "hoping" on the very hot wok when stir frying. It can be very smoky, but the aroma is luring.
There may be many versions of char koay teow in Malaysia; however, this is my Penang version char koay teow from Australia. There are a few ingredients that I don't use for this recipe – which is pork lard and cockles, however, the rest of the ingredients remain the same.
The secrets to a super nice char koay teow are:
Ingredients:
2-3 Tbsp cooking oil
4 large prawns – shelved and deveined (add more if desired)
1 clove garlic – chopped finely
1/2 tsp preserved radish
1 packet koay teow (fresh flat rice noodle ) – loosen noodles
½ packet bean sprouts – wash and drained
Fried koay teow sauce or (alternatively 2 Tbsp mushroom flavoured sauce & 2 Tbsp light soy sauce)
1 bunch garlic chives – wash, drain and pat dry – cut into 2cm strips
1 egg
1 tsp chili paste (optional)
1/2 Chinese sausage (optional)
Note: You can always add fish balls to the dish as well.
 Methods:
Heat wok and add cooking oil.
Once oil is heated, add garlic and preserved radish and stir fry for 5 seconds; add prawns, Chinese sausage (optional), chili (optional) and continue stir frying for another 5 seconds.
Add rice noodles; stir fry vigorously for 1 minute to prevent rice noodle sticking onto the pan; add char koay teow sauce while stir frying. Note: Wok must be hot – i.e. you will know when wok is hot as the noodles are "jumping" on the wok.
Add bean sprouts; stir fry with rice noodle for 10 seconds.
Move rice noodles to the side of the pan, and add 1 Tbsp oil and add egg. Break the egg yolk, then move the rice noodles from the side of pan/wok to cover the egg for about 10 seconds.
Add garlic chives and stir well to make sure all ingredients are well cooked.
Serve hot!
Ingredients you need:
Flat rice noodles, prawns, bean sprouts, garlic chives, bean sprouts and Chinese saugage
Number of people: 1
Preparation time: 15 minutes
Cooking time: 5 minutes
Cook's note: Char Koay Teow tastes nicer if you fry individual dishes one at a time.
Blog Post – Char Koay Teow

Check out the frying method b y this uncle:  https://www.facebook.com/PenangFoodie/videos/389698618326150/UzpfSTEzNzMzMjU1OTk1MDc0NjI6MTYyNDc4MTc1NzY5NTE3Nw/?modal=admin_todo_tour
Feedback by other customers:
By Charmaine W
Tried the Char Koay Teow sauce tonight. ⭐️ ⭐️ ⭐️ ⭐️ not too salty. Family gave it 👍🏼👍🏼. I like to add noodles to my CKT
Ckt my partner gave me 9.5 just cos i forgot the egg haha.the wings also yummy using what u have told me the powder and sesame oil And garlic by Hanna Bannana
OMG! I made CKT using your Bang Bang Sauce and kicap pekat. Sooo good. Taste and smells like Penang. Thank you for introducing the sauce. My only problem was must have char too much cos the noodles were a little smashed up. But taste so good. By Renee G-C
Check out all the Penang popular sauces