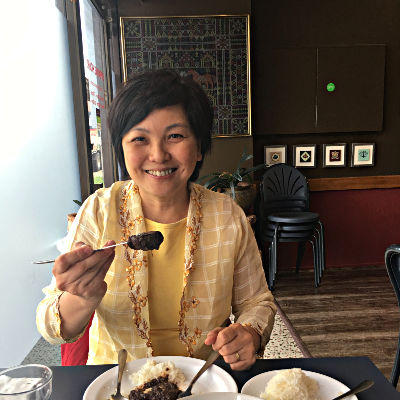 Lay Ean Eng (Kee) from Penang, Malaysia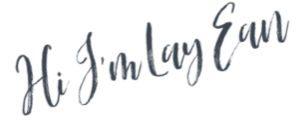 I was born in Penang, Malaysia and came to Australia to study. Somehow I ended up settling in Australia more than 30 years ago with my beautiful family. I grew up in Penang in a Baba Nyonya Family and so grew up with this amazing cuisine.
During those 20+ years in Australia, I did not cook many of my childhood dishes. One of the main reasons being that during that time most Asian ingredients were not readily available in Australia, and I had to rely on ingredients carried back from home (Penang) to cook those dishes.
On top of that, when my children came along, I resorted to easier dishes, such as steamed, or oven-baked meals, or dishes that required less than 4 ingredients. My children were not used to the spicy flavour of the Nyonya cuisine, and also it was less time consuming. Thus our meals revolved around my children's needs at that time.
Thirdly, there was a lack of readymade ingredients. Therefore to cook Nyonya dishes from scratch, you needed ample time to prepare the raw ingredients, and time was not on my side then.
Myself and my two beautiful children Eileen (front) & Jonathan (back)
Taken during our holiday trip in Bangkok
Why I started Nyonyalicious?
Nyonyalicious is for people like myself, who have migrated to a new country, integrated into a new culture, but still want to connect to our roots and our heritage.
I fully appreciate the challenges of migrant parents, who not only have to face the challenges of generational gaps, but also cultural gaps.
Thus Nyonyalicious is dedicated to all parents living far away from HOME, especially migrant parents.
RECONNECTING TO MY ROOTS
NOW that my children have grown up, I am taking this opportunity to reconnect to my roots and I am re-learning how to cook the Nyonya dishes that I grew up with.
I am delighted with the amazing array of Asian grocery shops and ingredients we can now find in Australia. The possibility of successful Nyonya cooking is now endless.
It has been many years since I last cooked my childhood dishes. I am now re-learning and reconnecting to these amazing dishes, and I would like to share this journey with all of you who are interested in the Nyonya cuisine. Being well aware of the challenges that I personally faced, I'm making it my mission to make cooking Nyonya cuisine as simple as possible, so that everyone can easily learn how to cook them, and most importantly, enjoy the experience.
INTRODUCE YOUR CUISINE / CHILDHOOD DISHES TO YOUR CHILDREN
I would like to encourage you to share your cultural dishes/childhood dishes with your family.
Why?
When you share your favourite childhood dishes with your children, you are sharing a part of who you are with them. Your children will then get to know you better, as you are opening up opportunities to enable your children to understand their roots and their identity through you, even though their own cultural identities are been established in the country where they now live.
On top of that, you are creating opportunities to connect with your children by cooking together. With the added cultural challenges of living in another country, this is a great bonus!
YOUR HEALTH
When you cook your own food, you have full control of the ingredients you add to your dishes and how you would like to prepare them.
On top of that, your childhood dishes were mostly dishes that were passed down from your ancestors. Those were the food that nourished our ancestors for generations, based on whole food that was available in their surroundings. So if they were nutritional for your ancestors, I am sure they would be nourishing for your family as well.
MY MISSION – Simple, Do-able and Authentic Flavours of Penang as well as Penang Nyonya Cuisine
Therefore my mission for Nyonyalicious is simple – make Penang Nyonya cuisine as simple as possible, and in a way that is conducive to the younger generation.
A little bit about Nonya Cuisine
First let's talk a bit about Nyonya cuisine. Nyonya or Peranakan cuisine is a fusion of Chinese and local Malaysian dishes.
Proper Nyonya cuisine is very labour-intensive as the Nonyas are meticulous about their food presentation. For example, vegetables, like carrots, were crafted into floral designs, or were very finely chopped, while kaffir lime leaves were finely sliced etc.
It the olden days, in order for the Nyonya ladies to be considered as an ideal Nyonya bride, they were expected to be proficient in preparing delectable cakes and dishes. Thus, the training in cooking and domesticity would start at a very young age.
For me personally, I grew up in a Nyonya family and enjoyed Nyonya cuisine almost every day of my life until I left for Australia, and I still crave and cook Nyonya dishes at home. I am sure many Peranakan will agree with me… once you were brought up with such fine dining, it stays with you forever!
However, due to the smaller community (Peranakan community) cooking such amazing dishes, not many restaurants are able to replicate the refinement of such dishes locally and overseas.
Also, with more and more Nyonyas pursuing careers of their own, the art of Nyonya cooking is, sadly, gradually becoming a thing of the past.
Therefore, I would like to bring back the amazing Nyonya cuisine to the Peranakan community and the public in general, irrespective of where they live in the world – using readymade ingredients all the way from Penang!
However, I am aware of the following practical cooking considerations:
Lack of time due to careers.
Lack of knowledge of understanding how to blend and harmonise the spices together.
Lack of raw ingredients for people who live in another part of the world.
Thus, in order to overcome these three issues, the best solution is to use ready-made ingredients, ranging from pastes, tamarind pastes etc. My mission is to show you how to create different Nyonya dishes from these amazing ready-made ingredients and enjoy this wonderful cuisine.