Delivery & Pick Up
Our delivery rates are as follow:
NSW

** Rates are subject to change.
or
PICK UP only –  @ Northbridge Pharmacy
Shop 2, 115 Sailors Bay Road, NORTHBRIDGE, NSW, 2063
(Next to Northbridge Post Office)
Parking: Along Harden Avenue or at Northbridge Plaza and walk towards Sailors Bay Road.
Opening Time: Mon – Fri 8.30am – 5.30pm | Saturday: 8.30am – 1.00pm
** Normally your order should be ready for pick up within 24 hours (unless they are back orders).  You should also received confirmation of your pick up time. If you have not heard from us in 4 business days after you have submitted your order, please text or contact us at +61 409 223 282 or whitelist our email address [email protected] for future correspondence.
Other States: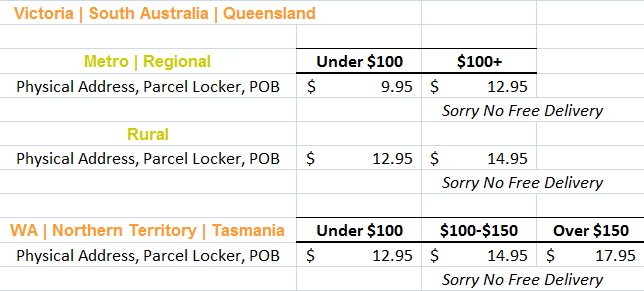 ** Rates are subject to change.