What is a Baba and what is a Nyonya
(Source: https://en.wikipedia.org/wiki/Peranakan)
Peranakan Chinese, or Straits-born Chinese, are the descendants of Chinese immigrants who came to the Malay archipelago including British Malaya (now Malaysia and Singapore, where they are also referred to as Baba-Nyonya) and Dutch East Indies (now Indonesia; where they are also referred as Kiau-Seng)[4]and southern Thailand, primarily in Phuket and Ranong[5] between the 15th and 17th centuries.[6]
Members of this community in Malaysia address themselves as Baba Nyonya.  Nyonya is the term for the women and Baba for the men.
Source: https://www.facebook.com/peranakansayang/videos/279146739602506/
A little bit about Nyonya Cuisine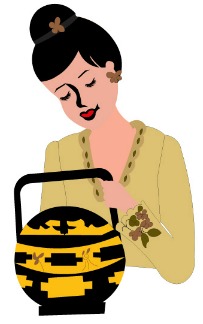 A Nyonya carrying a "siah-nah"
Nyonya or peranakan cuisine is the result of blending Chinese ingredients with various distinct spices and cooking techniques used by the Malay/Indonesian community. (Refer: https://en.wikipedia.org/wiki/Peranakan_cuisine)
A proper nyonya cuisine is very labour-intensive, as the nyonyas are meticulous about their food presentation. For example, vegetables, like carrots, were crafted into floral designs, or were very finely chopped, while kaffir lime leaves were finely sliced etc.
It the olden days, in order for the nyonya ladies to be considered an ideal nyonya bride, they were expected to be proficient in preparing delectable cakes and dishes. Thus, the training in cooking and domesticity would start at a very young age.