Little Nyonya Curry Chicken Paste 250g
$4.75
Product of Malaysia
Best By Date: Oct 2024
250g
Description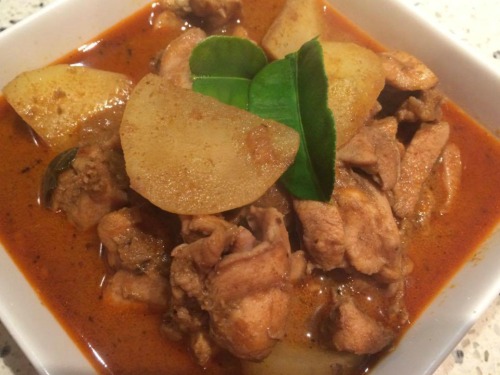 Authentic Malaysian dishes made simple with readymade pastes
Curry Chicken is a unique "Nyonya" cuisine as developed using typical Malay spices. Besides the usual steamed white rice, this dish is excellent served with turmeric glutinous rice (Nasi Kunyit) and Roti Jala.
Whether you are making curry pastes from scratch or using a readymade curry paste, it does not matter; the end results will almost be the same.
I was brought up with curries and will always love them. I remembered how my mum or grandma used to head to the market and bought the fresh paste from the 'paste lady'. All they needed to do was tell the lady which curry they wanted to cook and she would mix the different ingredients for them.
Therefore, I grew up tasting an amazing ranges of curries, but never learned the make up of the fresh ingredients.
Thus when I came over to Australia, I used to purchase packets and packets of readymade/mixed pastes for different types of curries. Even though I live so far from Malaysia, I still have the luxury of enjoying the good old Malaysian curries from the comfort of my home.
This is a simple version from the one I shared earlier, you only need to use the Malaysian chicken curry paste. I would recommend that you use chicken thigh fillet, as it is easier to cook, as well as being more tender.
Ingredients:
1kg chicken fillet – sliced finely
3 Tbsp coconut oil (coconut oil for health)
250g ready made Little Nyonya brand curry paste (whole packet)
2 Tbsp light soy sauce
200ml coconut milk
2 potatoes
150 ml water (1/2 cup to 1 cup)
Salt to taste
Method:
Slice chicken finely
Heat 1Tbsp cooking oil in pan. Once the oil is hot, pan fry the chicken for 1 minute.
Add curry paste and stir fry for another 5 minutes or until the chicken is about to cook.
Add water, stir and close the lid; simmer for another 2 minutes.
Potatoes
A – Cut the potatoes into 2cm wedges and cook with the chicken and paste in step 2
B – Alternatively you can boil the potatoes for 10 minutes or until potatoes are soft. Peel the potatoes, cut into 2cm wedges and add to the curry when it is about to be ready – in step 4.
Coconut Milk
When you are about to serve, add *coconut milk and salt to taste.
Serve hot with either rice, roti chanai or roti jala.
*Do not over boil coconut milk as it will cause the coconut oil to separate from the gravy and makes it look like it has curdled. In Malaysia, we call it "pecah minyak" – when oil and water separates. To prevent this happening, do not shake the coconut cream when opening the can; use the harden coconut cream when cooking.
Number of people: 4
Preparation time: 15 minutes
Cooking time: 20 minutes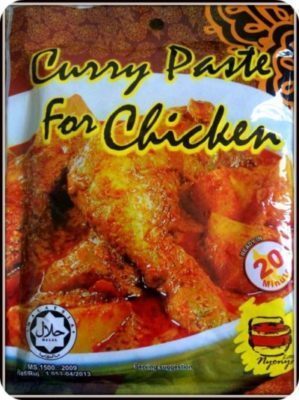 250g pack
Ingredients: Onion, lemongrass, chilli, coriander, ginger, tumeric, palm oil, sugar, salt, fennel, star anise, cinnamon, flavour enhancer (E621)
Storage: Store any unused portions in freezer
Note: This product is made in a facility that also processes peanuts, tree nuts, molluscs, soy, sesame seeds and wheat gluten derivatives
Frequently Bought Together
Get fresh milk, fruit & vegetables, meat & seafood, organic food and groceries all with easy home delivery!