I am going to try this dish – Samabal Udang Petai – which is also sambal prawn with petai. (Refer to the post on how to make sambal prawns with the Little Nonya sambal paste).
For today, I am going to add this infamous vegetable – petai. Petai is also known as "stink beans". It is often used in most Southeast Asian cuisines. It has its unique "smell" and "flavour", just like durian – you either love it or dislike it.
Personally, I am not a fan of petai, but I love the prawns from the smabal dish when cooked together.
So what is petai?
According to Wikipedia[https://en.wikipedia.org/wiki/Parkia_speciosa] – Petai is also known as Parkia speciosa. "It bears long, flat edible beans with bright green seeds the size and shape of plump almonds which have a rather peculiar smell, similar to, but stronger than that of the Shiitake mushroom, characterised by some as being similar to natural gas. The trees can grow up to about 30 meters."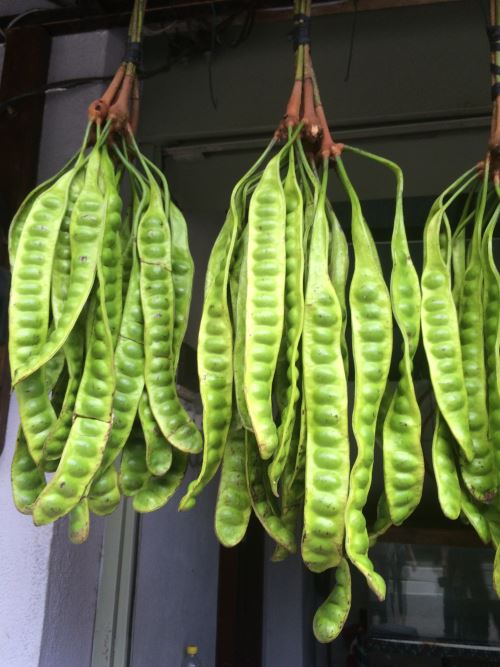 Picture taken on our way up to Cameron Highlands at long the roadside. It is the seeds that we use for the sambal dish.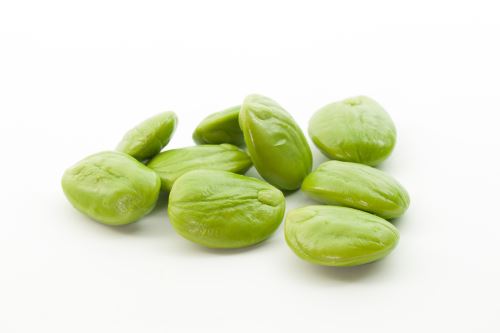 Whole petai seeds
You can eat the petai raw, fried or pickled.  However, in Malaysia, petai also usually served with sambal. So here is the popular sambal udang petai dish.
Give it a go and let me know how you went!
Ingredients you need for this dish:
2 Tbsp cooking oil
1/2 onion sliced thinly
I/2 packet of the Little Nonya Sambal Paste
10 medium green prawns – shelled
1 can of petai (Ayam brand or frozen from Chinese grocers)
1 inch assam for making Assam juice – soak in 4 tbsp hot water for 2 minutes. Squeeze the juice and set aside (or you can use Assam paste)
Method:
Heat pot/pan, add cooking oil
Once pot is hot, add onion, fry for 30 seconds or until soft; lower flame to medium heat.
Add the sambal paste and stir fry for 20 seconds. Add 1-2 tbsp water if sambal is too dry.
Add prawns and stir fry for about 20 seconds.
Add petai, stir fry for another further 20 seconds.
Add Assam juice and simmer for 20 seconds or prawns just cooked.
Taste and adjust the sourness accordingly.
Number of people: 2 – 3 people
Cooking time: 15 minutes
Preparation time: 10 minutes
Other recipes:
Grab your fresh food ingredients:
Remember to get:
Tamarind (check out the video on this page to see how to make tamarind juice)
Little Nyonya Sambal Ikan Bilis Paste
Petai – I use the Ayam brand petai – you can get it from Chinese grocers or from the frozen section. Contact me if you are not too sure where to get the petai.