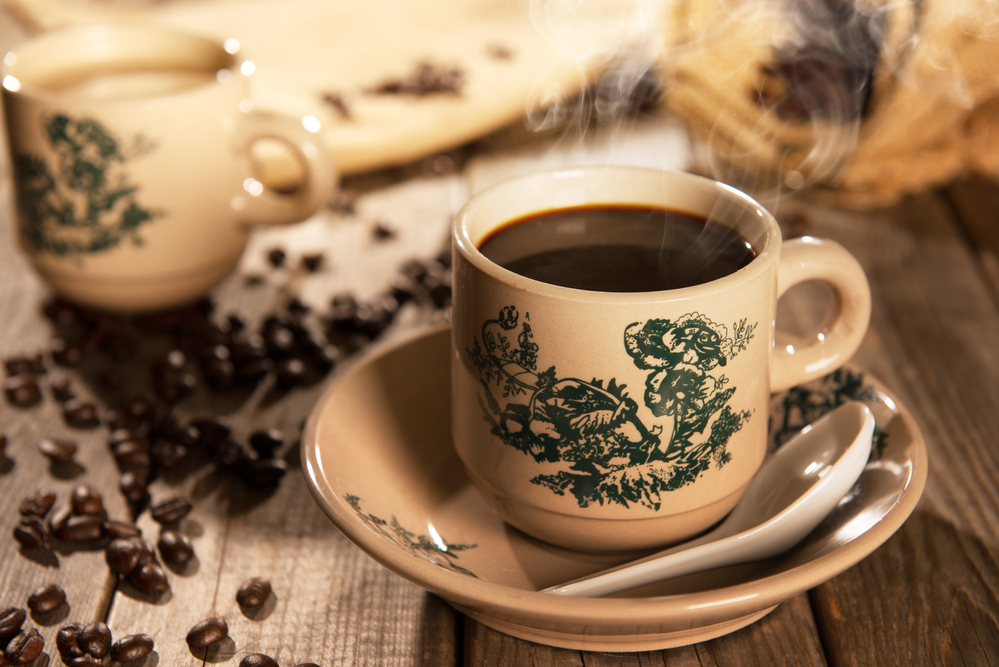 Malaysian coffee is known as "kopi" in Malaysia. The local "kopi" is normally served in the local coffee shop or known locally as Kopitiam.
"Kopi" is local  language for coffee and "tiam" is the hokkien word for shop. So Kopitiam is known as Coffee Shop.  The kopitiam  is where the locals go for breakfast, meeting up with friends while enjoying their kopi.
If you watch the old Malaysian or Singapore movies and if there is a scene of a Kopitiam (coffee shop), you will witness the traditional kopitiam culture where the staff/owner of the shop will wear white singlet and stripe pyjama bottom, making and serving kopi to their customers on a round marble top.
The kopi is the centre of the dining, accompanied with a half-boiled eggs and thick butter and kaya toast. However, nowadays, you will also be served with nasi lemak as well.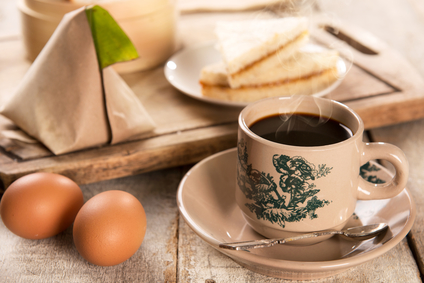 Breakfast bundle from Kopitiam in Malaysia – Nasi lemak, half boiled eggs, roti kaya & kopi
The Malaysian kopi is an acquired taste. The coffee is rather strong in flavour while aromatic. The flavour of the coffee depends on how the coffee beans are treated. For example, some are double roasted and enhanced with extra sugar, salt and margarine, and it can be fast roasting or slow roasting etc.
There are many choices on how you have your coffee, whether it is black, white, without sugar, with sugar or condensed milk etc.
OK, so what kopi would you like? Here are a few examples when ordering kopi in a Malaysian kopitiam:
Kopi – Coffee + Condensed milk
Kopi-O (O means black – no added milk/condensed milk) plus sugar
Kopi – Cham – coffee, tea and condensed milk
Kopi-C – Coffee, evaporated milk and sugar etc
Kopi-O-Kosong – Hot black coffee with no sugar
Kopi-O-Po – Coffee + Sugar + Water
Kopi-Siew Dai – Coffee + Less Condensed Milk
Kopi Gau – Strong Coffee + Condensed Milk
Kopi Gah Dai – Coffee + Extra Condensed Milk
Kopi Peng – Iced Coffee + Condensed Milk
Peng – means iced
Po – Dilute (or in Penang we call Chniah – dilute)
Gau – Strong / thick
If you Google search on how to order Malaysian coffee, you will be greeted with many terms that you would probably want to write down, just in case.
Also depending on where in Malaysia or in Singapore you go, each place has its own terminology – like a dialect.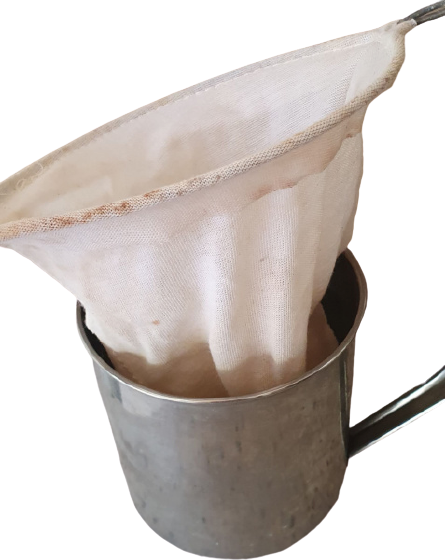 The way the kopi is prepared is quite unique as well . The uniqueness of kopi preparation is how it is made in a "sock", or rather a sock-like brewing sac attached to a wire loop. When brewing, the ground kopi is placed inside the sock.  Next they pour boiling hot water onto the coffee and allow the coffee to drip through the material.
Guide to preparing Malaysian Kopi:
Depending on how much / thick you want your coffee to be, here is a guide for roughly 1 cup. You don't need any machine for the coffee, just hot water and a mug.
Add 2 teaspoons (heaped) of kopi powder to a coffee pot and fill the pot with boiling water.
Let it sit for 3-5 minutes.
Sieve the coffee.
You can have plain black coffee or you can add sugar, milk or condensed milk.
Now with our new range of Coffee O Kosong in sachets – you can now enjoy the aromatic coffee with your choice of sweetness.
Enjoy your kopi!
This is a good article about Malaysian coffee https://www.pressreader.com/malaysia/the-star-malaysia-star2/20200801/281479278749640

> Sharing the traditional coffee making on of the older shops from Penang –  from one of the youtube channels: https://www.youtube.com/watch?v=hrSoo1eGH30
Our Coffee & Tea Range: