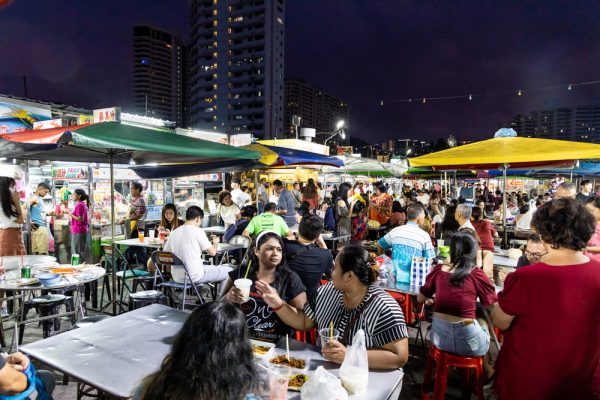 What is so special about that little island located on the northwest coast of Peninsular Malaysia (Malaya) by the Malacca Straits?
It is called Penang Island, also known as the Pearl of the Orient. George Town is the capital of Penang State, and it was named a UNESCO World Heritage site in 2008.
George Town features some beautiful British colonial buildings, Chinese Shop houses, temples, churches, mosques and many historical architectural styles. On top of its heritage buildings and sites, it also boasts of beautiful beaches, hills and forests, and, most of all, its food culture.
When one mentions the word "Penang" – I would dare to say, the first thing that would come to mind would be about its array of delicious food! (Sorry, being bias here).
Yes, we all love our FOOD!
As a Penangite, I always thought of Penang as a melting pot of culture not only for its heritage, architecture, and landscape, but also for its ever-popular mouth-watering FOOD!
Penang's food culture is a culmination of a melting pot of cultures from Chinese, Malays, Indians, Eurasians and so many others, which results in this amazing culinary diversity with its own unique flavours. All these flavours are easily found from roadside food vendors/hawkers, kopitiam (coffee shops) and restaurants, ranging from spicy sambals to rich and aromatic curry laksa.
Here are some of the most popular street foods from Penang: Penang Assam Laksa, Penang White Curry Mee, Penang Hokkien Mee (Prawn noodle/ har mee), Char Koay Teow, Koay Teow Th'ng, Wanton Mee, Mee Goreng, Roti Chanai, Rojak – Malaysian fruit salad, Chee Cheong Fun, Chendol/Ice Kachang, Malaysian Kuih, nasi lemak, Hainanese Chicken Rice, Roti Kaya with half boiled eggs, Poh Pniah, Nasi Kandar, Chendol, Ice Kachang, Apom, Oh Chien (oyster omelette), Chee Cheong Fun (rolled up flat rice noodles with special sauce), kuihs and so many more. You can easily find these in most eateries in Penang, especially the hawker centres.
Eventhough the hawker / street food scenes highlight the best street food flavours of Penang, but I personally believe that there are two more important ingredients that are crucial to these amazing food scenes.
First it is the ATMOSPHERE of the street food scene. The sound of people talking, chatting, and the aroma and the buzz of fresh food cooked right in front of you. There is nothing more satisfying than watching your favourite dish cooked right in front of your eyes, seeing the years or in fact generations of learned cooking techniques and skills, while at the same time enjoying the aroma of the food.
Another ingredient is the WARMTH of the Penangites!  It is very common for customers to chit chat with food vendors (if they are not overly busy).  Also, when it comes to ordering… you can hear something like this "I would like to order 4 plates of char koay teow, 1 plate with more chilli, 1 plate less chilli, 1 without bean sprout and 1 don't want clams … and please don't make it too oily…". The char koay teow vendor would repeat back the order to the customer, asking where they are sitting and continue frying the koay teow – no problem!
 Sometimes if the vendor is not overly busy, they will fill us in with stories / history of the street, family, and how many generations have been involved in the business.
There is no doubt, Penang Street food culture is very strong. The reason is not only because of its delicious food – yes that is for sure, but it is about the people making it so amazing.  It is the generations of honed skills being passed down and shared with the customers, as well as the generous and friendly spirit of the Penangites. It is the combination of these "ingredients" that make Penang Street Food culture so special yet so amazingly "delicious"!